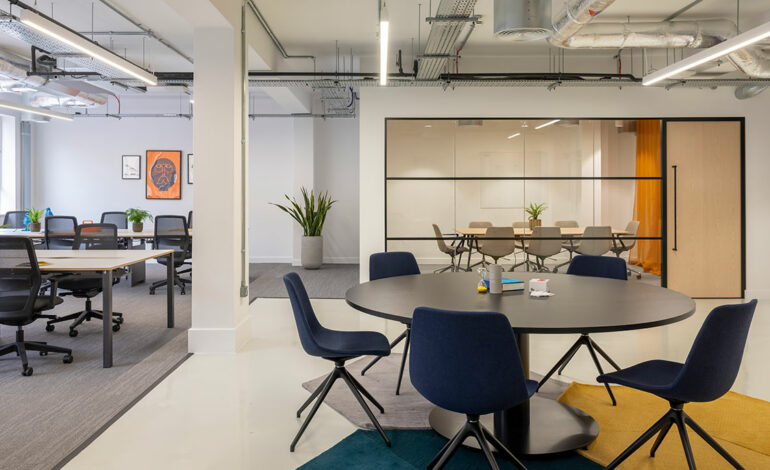 When searching for a new workspace, it is important to understand the different types of offices before proceeding. A leasehold office is also known as a traditional office. Leaseholds are fixed for a period of 3-10 years; however, leases often include options to break which act as opportunities to leave the property at pre-determined dates. There are different types of leases for example subleases, lease assignments and new leases direct from landlords. To understand these fully it is always advisable to instruct an agent like ourselves.
Traditional office space is rented on an annual basis at a cost per square foot of area. It is rented on a annual basis at a cost per square foot of the net internal area. It is the tenant's responsibility for paying the rent, rates, and service charges. The interiors are the responsibility of the tenant except for a few cases where the landlord pre-organises the office (category A+ office space). The tenant is responsible for managing and maintaining all facilities within their demise. This includes space planning, furniture, fit-out, cleaning, IT, telephone network setup, utility bill payment, and service expenses. Typically, the running costs are uncapped where a tenant can easily encounter unforeseen costs. For example, if there are any defects within their demise.
What is the difference between serviced office space and leased office space?
Serviced offices offer a team to fully fit-out and manage the running of the workspace. The contract is usually up to twelve months to three years due to the license, and they can be quicker to move into compared to Leasehold. The main advantages of these offices are transparency via all-inclusive monthly costs, flexibility, and lower set-up costs in comparison to leased accommodation. Private offices, fixed workstations, hot desks, and coworking spaces are all available in serviced offices. You share common parts of the space which means that the kitchen areas can be more glamourous.
What are the benefits of a Leasehold office?  
One of the main advantages of a traditional office is the possibility to maintain your company presence. This can be through signs at the entrance to the office, as well as throughout the rest of the decor. As a result, it gives you more options for protecting your company's image.   
It gives you more control over how you use and manage your office space. You may choose to add more meeting rooms, breakout spaces, and multiple kitchens, it is entirely up to you how you organise the space.   
Established companies can consider longer leases as it makes it worthwhile to spend on the fit-out if it lasts for a while.   
Businesses under a lease typically have the security of tenure. To understand this better it is important to liaise with a company like Victor Harris.
What are drawbacks of Leasehold offices?
Compared to serviced and managed office spaces, deal completion normally takes much longer as it is a more in-depth process.    
Uncapped costs – I.e., costs to repair faulty items within the demise, costs for professionals and costs associated with exiting the lease.  
Why should you choose a Leasehold office?
You should weigh up all your options carefully and take Serviced and Managed offices into consideration before deciding. Location is also a key factor to consider depending on the business needs. Choose a conventional office only if you are looking for a permanent business location to build your own business space, by investing sufficient time and resources. If you are considering housing a substantial number of employees and you need plenty of additional space, then a traditional office is the best option for your business.
How do I find leased office space?
Using agents such as Victor Harris is the most efficient way. However, companies who have the time to search/learn can do so. Typically, it is advisable not to do it without expert help, as if a mistake is made it is something a business would have to endure for the duration of their lease. Alternatively, our website, which is soon to be re-launching again. The new sophisticated search system that gives you the ability to search yourself.